Covalence allows companies to better assess reputational risks by helping them monitor their performance on ESG matters through benchmarking, research and ESG news monitoring services.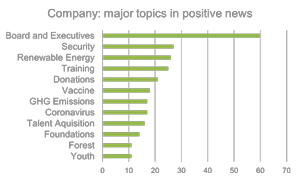 ESG has elevated the importance of reputation and has mainstreamed it into the business (PwC's report Reputation Management in the era of ESG). Social responsibility is expected to be the most important reputational consideration in five years, according to Deloitte's 2022 Global Resilience Survey report.
Companies communicate about their ESG efforts for several interrelated reasons: protect brand, show leadership, involve stakeholders, be resilient to pressure, build reputation, and strengthen social license to operate.
Companies need to measure the impact of their communications and receive independent insights into how their company is portrayed in the media.
To companies Covalence offers media analysis focusing on ESG / sustainability / CSR issues, covering 300'000 media sources worldwide, and benefiting from in-house ESG news gathering and classification tools.
The ESG media analysis includes the following features: importance of ESG coverage compared to general media coverage, share of voice, news sentiment analytics, topics, sources, stakeholders, salient events and corporate outreach.
Such media analysis is provided for a company and the five peers of its choice and covers one year.  It is produced on demand and delivered in the form of 15 slides presentations.
Our ranking service enables corporations not only to monitor their ESG reputation but also to benchmark their performance against peers and improve communication with internal and external stakeholders. It helps companies understand and track the balance between positive (endorsements) and negative (controversies) news that is associated with the company.
Covalence ESG snapshots capturing ESG performance information are a core feature of this service.
Updated on a monthly basis, ESG snapshots provide:
Ranking results across sectors and within sectors
Scores in the Environment, Social, and Governance categories as well in the Disclosure and Reputation axis
Performance metrics across the 11 dimensions with 5 years history
Most active topics over the last 3 months
SDG mapping
The ESG News Monitor is a fully interactive platform providing real-time access to thousands of curated news items published by companies, the media and other stakeholders. Users can navigate and dig through this online content in order to rapidly generate insights of what makes and breaks a company's reputation.
The ESG News Monitor provides an easy and user-friendly visualization of the content that is fed daily into Covalence database.
Users can view data and charts as well as  focus on and zoom into the parameters of their choosing. All charts are interactive enabling users to filter the data in one click and apply the same to all charts in the document.
Data can be filtered by:  polarity (positive or negative), period of time, companies, business sectors, criteria and dimensions, topics and subtopics, keywords, location, materiality, and type of stakeholders. One can also sort the data by source, type of source and country of source.
This tool includes headlines and URLs to access original articles.